Vogue Ball 2017 – Se7en Deadly Sins: Invisible Wind Factory, Liverpool
Don't just stand there, let's get to it; Andrew Nicholls takes in the House of Suarez annual Vogue Ball at the Invisible Wind Factory.
"If the music's pumping it will give you new life
You're a superstar, yes, that's what you are, you know it"
In 1990, Madonna's Vogue and the cult classic documentary Paris Is Burning were released. Both have faced criticism for exploiting New York's Ballroom scene, with some viewing Paris Is Burning as a voyeuristic and exploitative dive into the scene. But personally, it allowed me a glimpse into an unknown world of daily struggle of the LGBT youth of New York.
Ball culture in New York was built around predominately black and Latino youths, most of them had been made homeless due to their sexuality or social issues at the time. Older members of the community would take in the youth, and mentor them. These were often affectionately known as 'Mothers', with their new support group becoming their new family.
The houses would take a family name, such as LaBeija, Xtravaganza, Ninja and meet for regular balls and compete in categories such as Runway, Body and Vogue.
The vogue style of dance has elements of poses taken from poses from fashion magazines – exaggerated versions of these. The term 'vogueing' is debated to come from the founder of the House of Dupree, Paris Dupree, who picked up a copy of Vogue magazine and imitated the style.
The balls were a chance for the mostly poor, unemployed youth to dress up and be as fabulous as they want to be. They also took a satirical side, with certain categories to show the contestants ability to 'blend in' with hetero society, in the use of hyper masculine clothing and walks. This was known was 'realness' (a term picked up in RuPaul's Drag Race).
The term 'House' is still used with balls, however the family context has changed. Last weekend, the House of Suarez staged the latest of their Vogue Balls, entitled Seven Deadly Sins at the Invisible Wind Factory.
The venue was already pretty full by the time we entered, but luckily they had considered the nature of the show and there was easy viewing with raised platforms at either side of the stage.
Some were dressed in drag, others in more gender fluid clothing. The dance-esque music associated with the vogue scene blurred out of the speakers (including a current personal favourite; RuPaul's Call Me Mother).
There was excitement in the air for the first round, Serve Your Sin; a chance for the Houses to represent their chosen sin. There was communal feeling, with each House being equally supported, and every death drop – an athletic dance move where the person drops quickly onto their back (death is possible, see below) – causing a commotion with cheering, finger clicking and hand waving.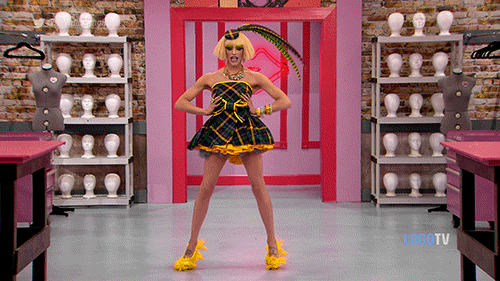 There was an overall feeling of elation, and a real respect for the performers, which were truly varied. One satirical performance saw Kim Jong-Un and Donald Trump locked in a lightsabre battle, and another saw Theresa May and Margaret Thatcher stripping to lingerie. Pop culture references were also included, with references to Kill Bill's Gogo Yubari and the fresh faced gay icon the Babadook lip syncing.
Though the crowd was enthusiastic, there was occasionally a feeling of being surrounded by quite a few people who were unaware of the importance of this sub-culture. The audience did seem to comprise of a number of troupes vogueing with limited knowledge of its context. A few seemed not to be involved with the LGBT+ community, and therefore distanced from its history. As stated above, the importance of vogueing in Queer culture goes beyond mere dance steps. Vogueing and the community around it undoubtedly saved the lives of young gay men who had nowhere else to turn. This is arguably its legacy more than a Madonna, a documentary or a few catchphrases on Drag Race. To vogue without this knowledge can come across as a little hollow
Not that we're saying that only members of the LGBT+ community should be allowed to enjoy the festivities. Far from it. If there is one thing an event like this should preach, it is inclusion.
Perhaps this was best exemplified on the night by a drag queen at the side of the stage who we initially mistook for an audience member dancing by herself. After a couple of minutes, it became apparent that she was actually signing everything the host said. A small, but effective token, and a statement about the need for diversity at events such as this. And her fancy dress combo with slippers was to die for.
The balls have had a mighty impact on mainstream Queer culture. Drag queens often use terms originating from the scene, such as 'shade' and 'reading'. Keeping this tradition alive is not only important for gay artists' uncensored creativity, but it is also a stark reminder of our past. Where we have come from, and how far we have travelled. It provides a safe space for the LGBT+ youth – and allies – to come together and celebrate their culture. To dress up and dance.
Not only are the values of escaping from the pressure of the outside world and its problems ones we should celebrate, it's also fabulous to do it.
Pictures by Gary Dougherty