Queenstion Time #6: Jujubee
One of the biggest fan favourites in the history of RuPaul's Drag Race, Jujubee speaks to Andrew Nicholls ahead of this month's huge Drag convention in London. 
Hailing from Boston, Massachusetts, Jujubee is in a distinctive position in the history of RuPaul's Drag Race in that the name she was born with is arguably more memorable than her Drag name; Airline Inthyrath. 
She was introduced to the world on the second season of Drag Race and became a fast fan favourite, so it was no surprise that she was asked back for the first season of Drag Race: All Stars.
Unfortunately, the first season of All Stars wasn't all that well received by fans, owing to an unpopular format which saw the Queens compete in teams of two. Jujubee was teamed with fellow Raven – with both Queens reaching the top three, alongside eventual winner Chad Michaels.
Jujubee, however, still came out of it positively, and only reinforced her popularity with fans, with a cavalcade of quotable lines ("I like long walks on the beach, big dicks, and fried chicken"), never ending charisma and the ability to throw major shade with a sweetness that just makes her feel charming.
She is among a cavalcade of drag stars making their way to London for DragWorld UK – Europe's largest drag convention later this month, and she took the time to speak to Planet Slop – because she's a superhero diva, and her power is glitter.
Planet Slop: I know RuPaul was a great inspiration to you. What was it like to work so closely with him?
Jujubee: RuPaul has always been and will forever be an inspiration to me. I've always looked up to RuPaul and to be able to work so closely with him was more than I could ever wish for. Ru has provided me with some very wise thoughts and provided me with the opportunity to share my art with the world. I am forever grateful.
PS: When you started drag, did you know exactly what style you wanted to go for, or did your style evolve naturally over time?
J: STYLE?! I ask myself all the time, "Girl, do you know what you're even doing?!?" I'm the queen that loves a good bargain. My drag is definitely just mine and although I appreciate all forms of drag, this version of me fits my inner soul.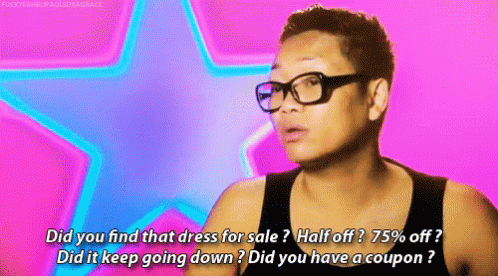 PS: How do you feel about the disappointment fans had with the format for All Stars 1?
J: I totally understand how one could be disappointed in the format, but it did open doors for more seasons of All Stars. I did enjoy my time working with Raven so much! Without us being paired up, we would have never been able to strip down to our emotions and dance on our own. That was a beautiful moment.
PS: Was it difficult to go into a situation where you were always paired up with Raven, as opposed to being given the freedom to work alone?
J: There were certainly difficulties, but I was lucky to have Raven as a teammate. I was in great hands. If anything, she had her work cut out for her having me as her partner.
PS: The format for All Stars has radically changed since then – how would you have felt if you would have been forced to send people home?
J: The format has changed a lot and it's incredibly exciting! Being forced to send people wouldn't have been easy for me as I wouldn't want to enrage anybody, but it's part of the game. I would want to win and would have no problem sending people home if it meant I was that much closer to the crown. After all, it is a competition with just ONE winner.
PS: Looking back, do you have any favourite moments from either the main show or All Stars that stand out as being particularly memorable?
J: My shared performance with Raven is something I'll never forget. It tore us down. If I were allowed to stay and Raven was to be sent home, I'd have given her my spot. I know she would have done the same for me. That's why we were so heartbroken.
PS: The popularity of Drag Race has exploded in the last few years. If you had the choice, would you have preferred to enter the show in a later series, or are you happy that you did it when you did, and why?
J: I am happy with things as they are! I'm pretty sure I wouldn't make it on a current season!
PS: How do you feel Drag Race has assisted the understanding of queer issues and queer culture outside of the LGBT community?
J: RuPaul's Drag Race has been a great way for people outside of the LGBTQIA community to get a closer look and understanding of part of our culture. The stories shared are personal to the person sharing it, but within the community, there is a common understanding. Even in the LGBTQIA community, RuPaul's Drag Race has been educational. Drag was even frowned upon within our own community and now that it's been brought to television sets across the world, people have been more open to the art form.
PS: We have to ask; do you still like long walks on the beach, fried chicken and big dicks?!
J: I will never not love these three things!
PS: Which is your favourite?
J: Fried chicken has never let me down!
PS: Do you have any more upcoming projects?
J: I'm currently working on some music. I'm still trying to find my voice and I'm hoping I'll be able to share that with you very soon!
Jujubee will appear at DragWorld – Europe's largest convention of drag – at the Olympia, London between Saturday 18th and Sunday 19th of August 2018. Tickets are available now.
Full line-up: Alaska5000, Alfie Ordinary,  Anna Phylactic, Bebe Zahara Benet,  BenDeLaCreme, Benjamin Butch, Biblegirl, Blair St. Clair, Charity Kase, Cheryl Hole, Cheddar Gorgeous, Chiyo, Courtney Act, Crystal Lubrikunt, Darienne Lake, Dax, Erik Witherkay, Farrah Moan, Ginger Minj, Hans Euff, Jiggly Caliente, Jinkx Monsoon, Jujubee, Katya, Manila Luzon, Meth, Miss Fame, Phi Phi O'Hara, Tatianna, Violet Chachki, Zayn Phallic